How to Choose Art for your Home
Jun 20, 2017

When you think about choosing art for your home, you need consider your motivation for wanting to purchase art in the first place. Is it to add to your home décor or for investment? We'll take a look at three different considerations and tips to help you purchase the right art for your home.
Buying Art to Fill a Space
Often we have a space to fill and the selection criteria for choosing our artwork is based in the physical considerations of size and shape as well as colour scheme. If we're decorating a home for sale or to make our home feel complete, art can make a big impact to a room.
When choosing artwork based on size, you'll need to consider the FINISHED size of your piece.Today the popular unframed canvases make it easy to buy art online as the size of the canvas is also the size of the finished piece.However if you are buying unframed artwork such as a rolled canvas or fine art reproduction on paper or cotton rag, it will need to be framed which will alter the size of the finished piece of work.
Tip: If your piece needs to be framed remember to take into consideration the size of the mount and frame when you select your piece of artwork if space is tight.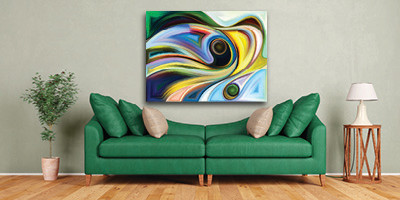 Colour can be used to soothe the soul or ignite energy in a room.Using bold colours and deep colours can add dimension to a room that is mostly neutrals or if you are looking to 'pick up the energy' in a room choose bright colours.Alternatively light or cool colours can be ideal for bedrooms or rooms where you want to feel calm and tranquil.Choosing your artwork can be done to complement your existing colour scheme or use it to create your room's colour palette picking out signature colours for styling accents in your room.
Tip: Choose the colour of your walls in our Wall Preview when buying your art to see how your artwork will work with your own room colours.
Buying Art for Investment
Choosing artwork for investment has quite a different range of considerations and like any investment, careful research is required to ensure you are buying well.There are many criteria such as awards and recognition, previous sale prices of the art and popularity of the artist.Based on experts their advice is to always buy the best of what you can afford.Today original artwork can be out of the reach of many people however high quality, Limited Edition fine art reproductions with a signed Certificate of Authenticity are an excellent opportunity to enter the market.As the original appreciates, so too do the Limited Edition prints. All the reproductions offered on BuyArtNow are printed using the latest technology including archival pigment inks, acid free art papers and canvases and Certificates of Authenticity are issued with every Limited Edition fine art reproduction.
Tip: buy the best of what you can afford, check for quality and store in optimal conditions.

Buying Art because you love it!
Falling in love with a piece of art is never wrong.It's one of the very best reasons to rip out your card and hit Buy Art Now!Whether the Artist is famous or not, should not overshadow your impulse to simply have to have it.This is why art exists in the first place. A visual expression of an emotional state evoked and recognized by another.
When the world get so full about the practical, it's why Art is still so highly prized throughout history.The profound need to create finds it's counterpoint with the value in those who's souls are indelibly etched forever with the emotional connection it creates.
So now you're artwork is on its way, it's time to abandon the rules of interior design and just find that spot to put it where every day you get to leave the world behind and experience the connection again.If it just so happens to make your grandchildren billionaires or it matches the couch is just a bonus.
Tip: make space, and put it where you get to enjoy it every day.